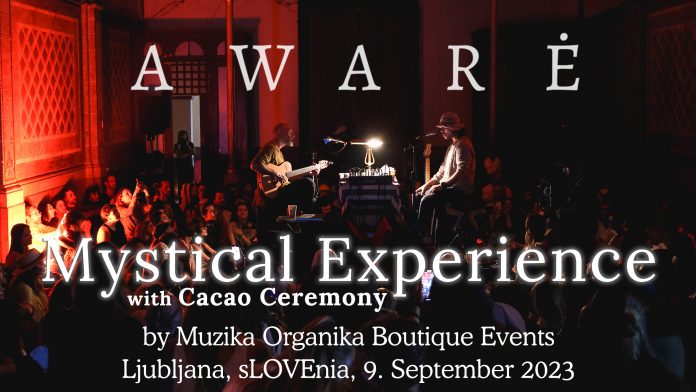 Muzika Organika
AWARĖ – Mystical Experience with Music, Dance and a Cacao Ceremony
Saturday, 9. september 19:30, please be on time (doors open 19h)
Kotnikova ulica 4, 1000 Ljubljana, sLOVEnija
Google maps: https://goo.gl/maps/R2yQuxMUnLDNma6Q8
If you arrive early, you can park at the event site behind the ramp.
Step into a realm of enchantment at AWARĖ – Mystical Experience by Muzika Organika. Join us for an extraordinary evening filled with the captivating melodies of AWARĖ, a musical odyssey that transcends the boundaries of sound.
Immerse yourself in the harmonious convergence of instruments and intertwined harmonies, as AWARĖ weaves a tapestry of ancient wisdom and resonant equilibrium. Let the vivacious rhythms awaken your senses, inviting you to embark on a soul-stirring journey where co-creation becomes the language of the heart.
As you surrender to the transformative power of the music, indulge in the sacred ceremonial cacao, lovingly prepared to elevate your experience. Allow the nourishing elixir to open your heart and awaken your soul, amplifying the connection between body and spirit.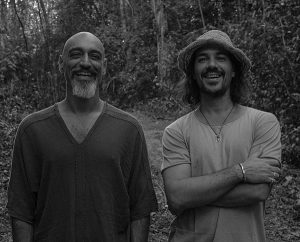 This magical evening invites you to embrace the meditative stillness within the dance, as Bogdan's violin evokes subconscious memories that speak to the depths of your being. With each note, he effortlessly transports you to the ancestral notes of a universal language, igniting introspection and collective healing.
Matias, with his captivating voice, creates a safe and inspiring space for self-discovery. Let his transformative melodies guide you to reconnect with your inner voice, unlocking the hidden realms of your own musicality. Through this intimate journey, you will rediscover the power of self-expression and the joy of inner harmony.
Muzika Organika, the creator of profound spaces, warmly invites you to this unique and intimate gathering. Come together with like-minded individuals, sharing in the joy and happiness of the present moment. Dance, meditate, and celebrate life, as we unite our hearts and souls in a collective celebration of oneness.
Experience the mystical fusion of music, cacao ceremony, heartfelt connections, and transformative energies at Aware – Mystical Experience by Muzika Organika. Prepare to leave inspired, renewed, and energized, carrying the essence of this extraordinary night within your being.
Do you need more information?
Please contact us at info@innerbalance.org